---
The day before, at the dealer.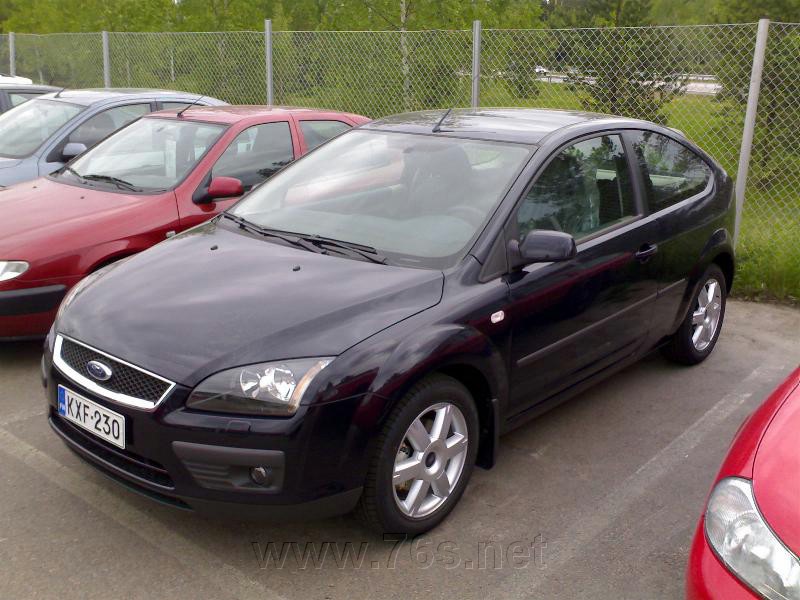 ---
Pick-up day, 8.5.2006. 2½ months from order, ~3 weeks from the factory.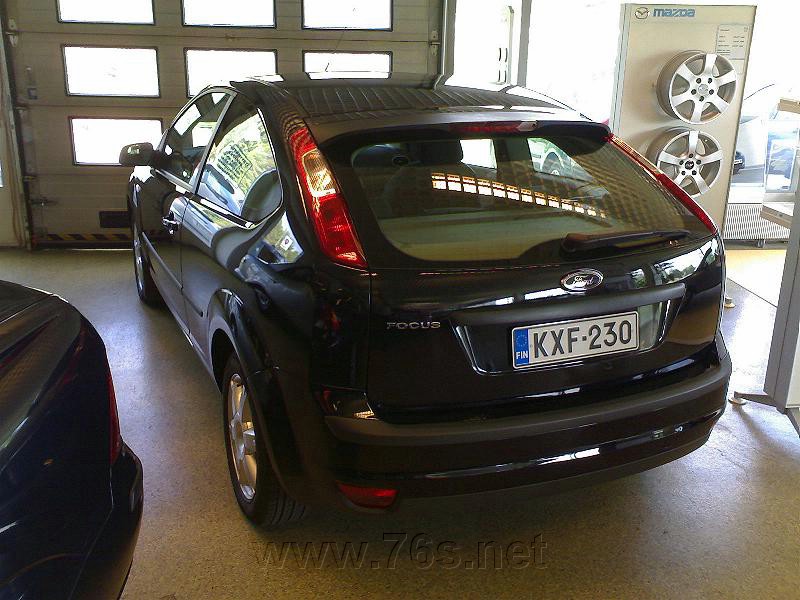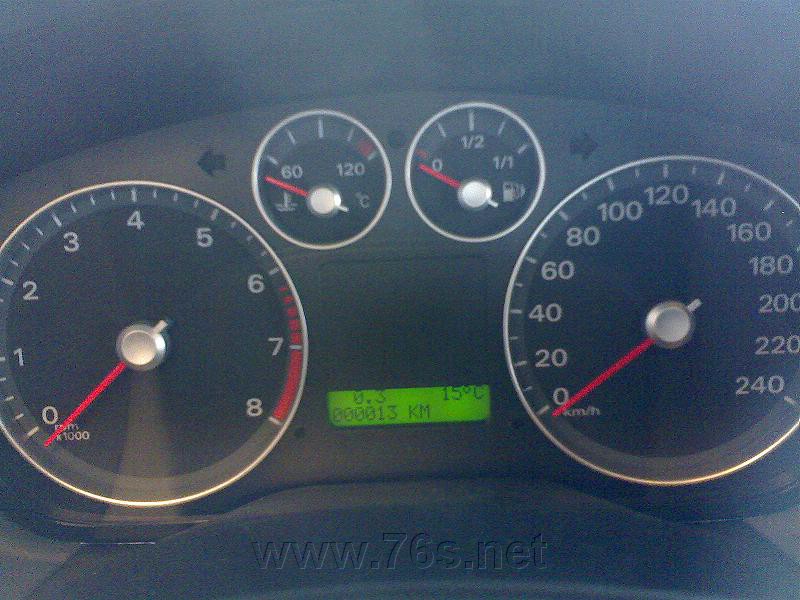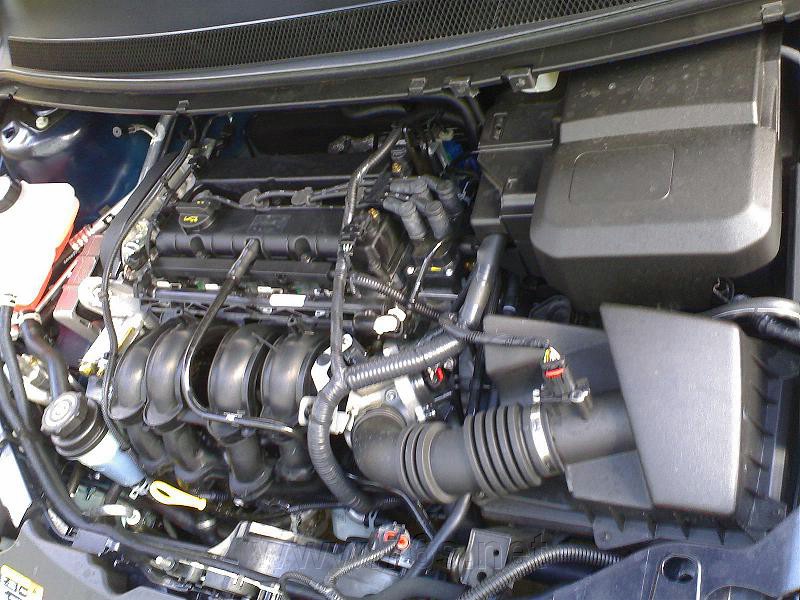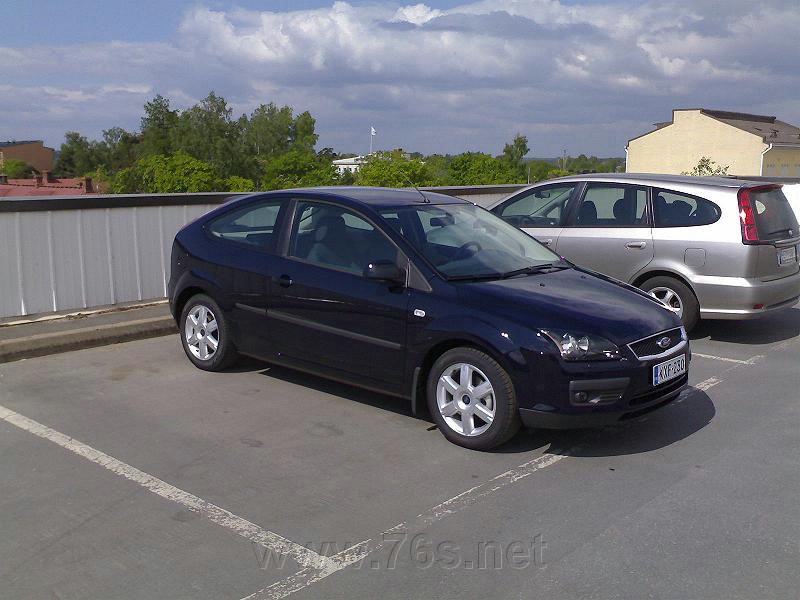 ---
These are the standard 16" rims you usually get the Focus Sport with.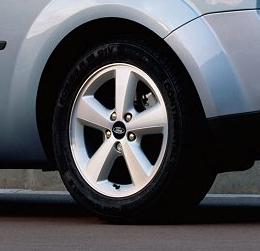 Somehow (browsing the prochures and price lists) I found out there is another option for no extra charge, and so I went for these. I think they do look nicer than the other model, AND most certainly you will not see these in every Sport like you see the 'normal' Sport rim as most people don't realize there's an option.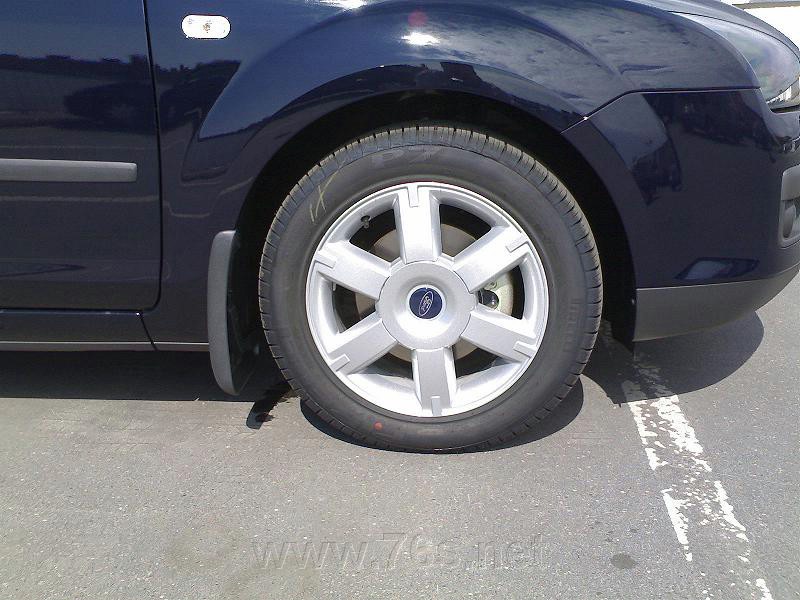 As most 'original' rims look not that special, I decided to leave these for the winter tires, and bought me a set of Dezent Type S's. It's the Sport -spec 16" size, didn't want to ruin the car with any idiotic sizes (been there, done that and learned from it) and with this choise I don't need to buy me new summer tires as I can use the originals (Pirelli P7, 205/55/16) that came with the car.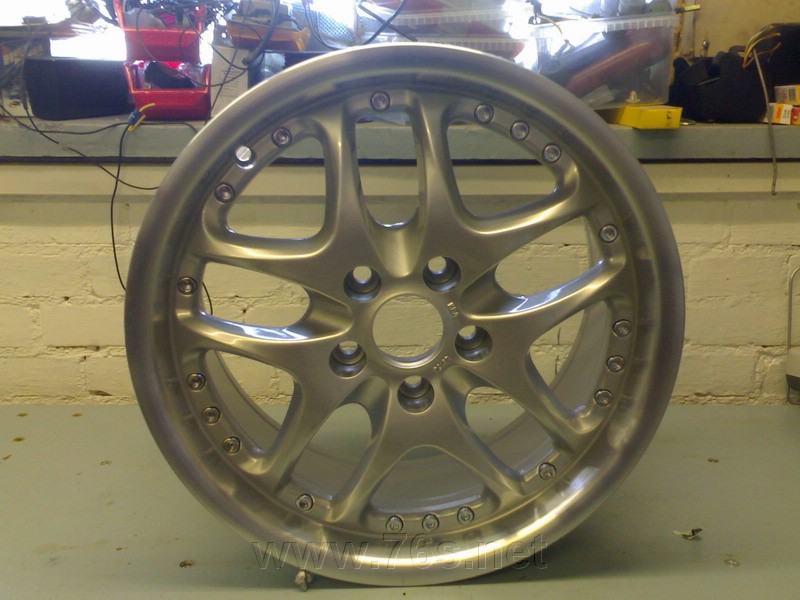 ---
So I went to get them installed and took some photos from different kind of angles.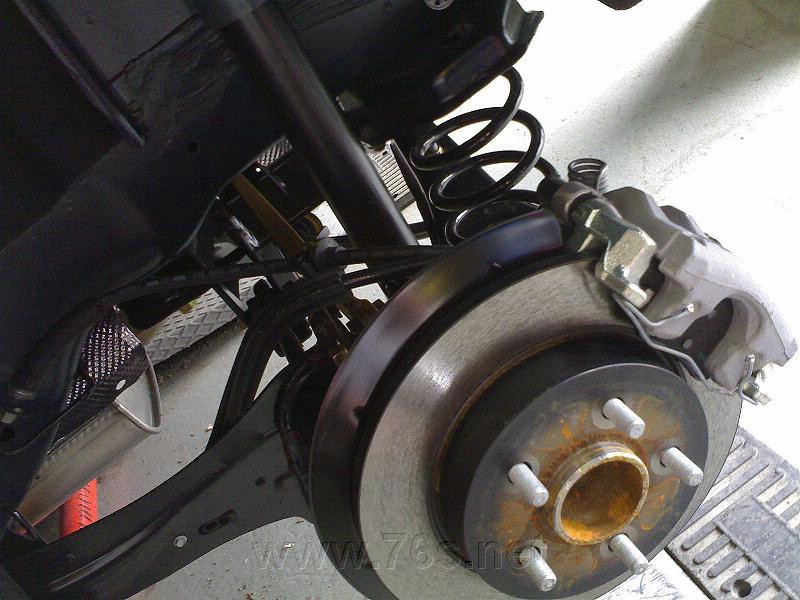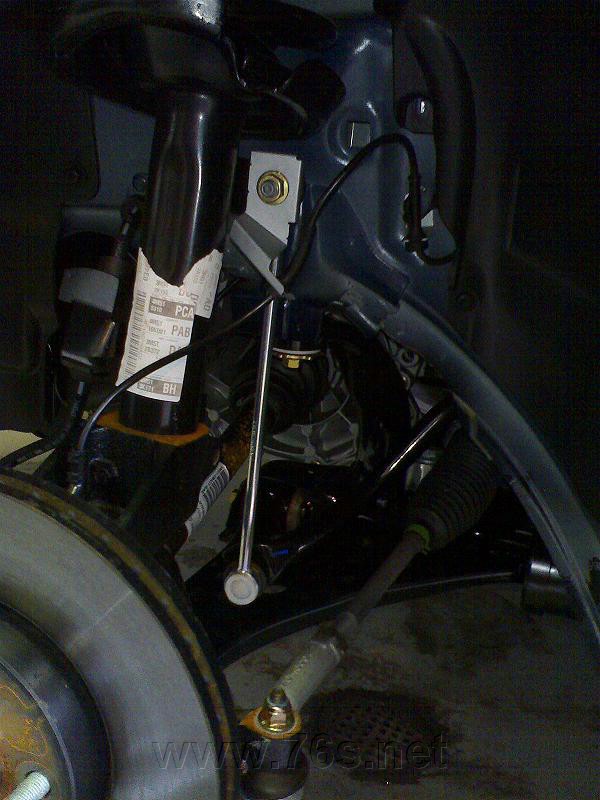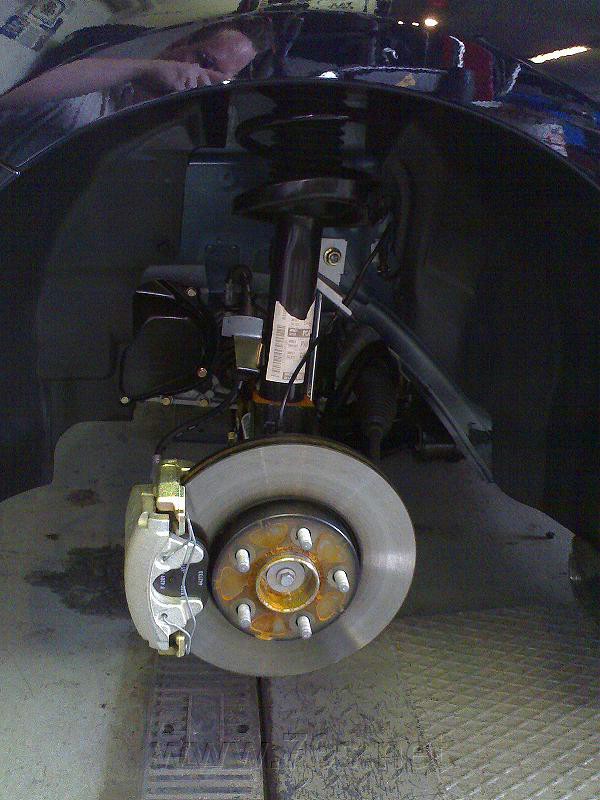 I think I might've done a good choise..
---
And I wasn't wrong! One might say it looks a bit lame with only 16" wheels, but as I said, there's a reason.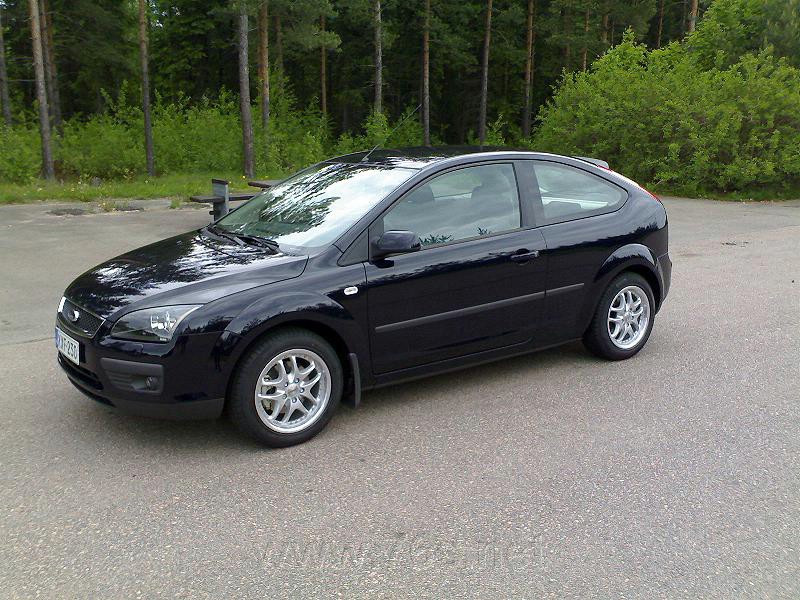 ---
Sony MP3 (This is really worth the money, just go for it if in any doubt!) and the DEATC System.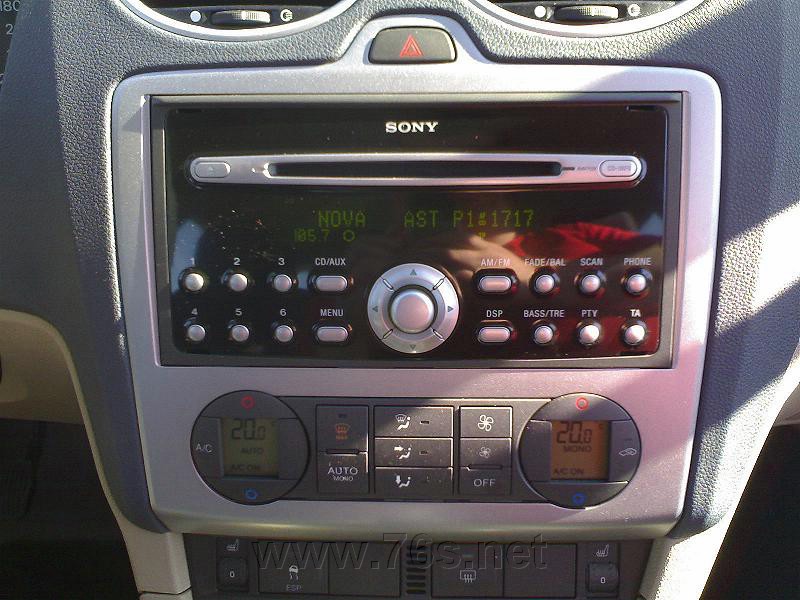 Set of nice mats.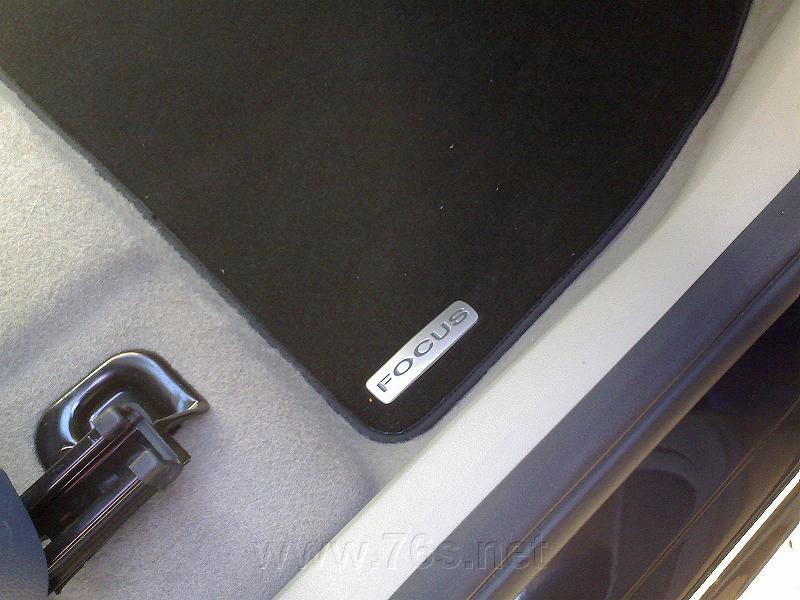 Gearknob and handbrake handle replaced with special ones.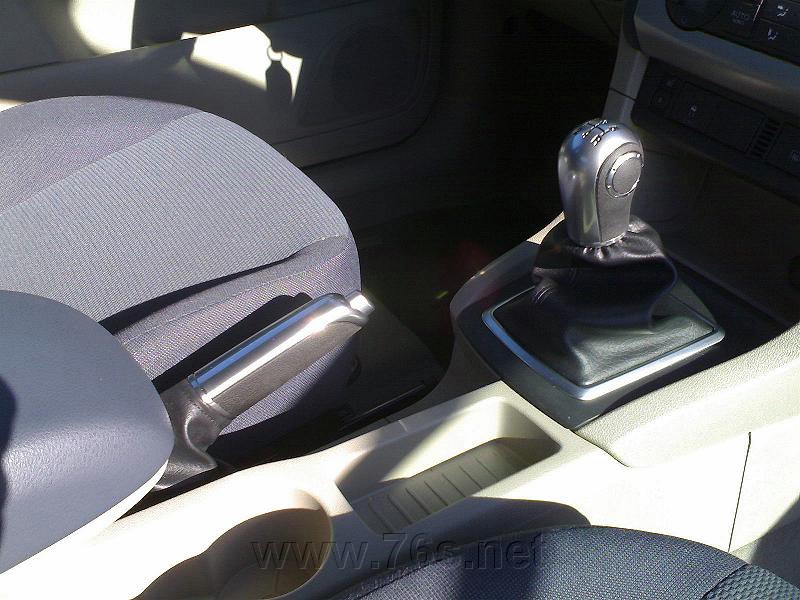 ---
And then something I chose mostly because I found these a bit hilarious; the adjustable pedals and the switch for those :-) I really don't need them but my exwife-candidate sometimes drives me around and she's kinda short so this was for her :-) And it cost only 190 euros so it wasn't even expensive.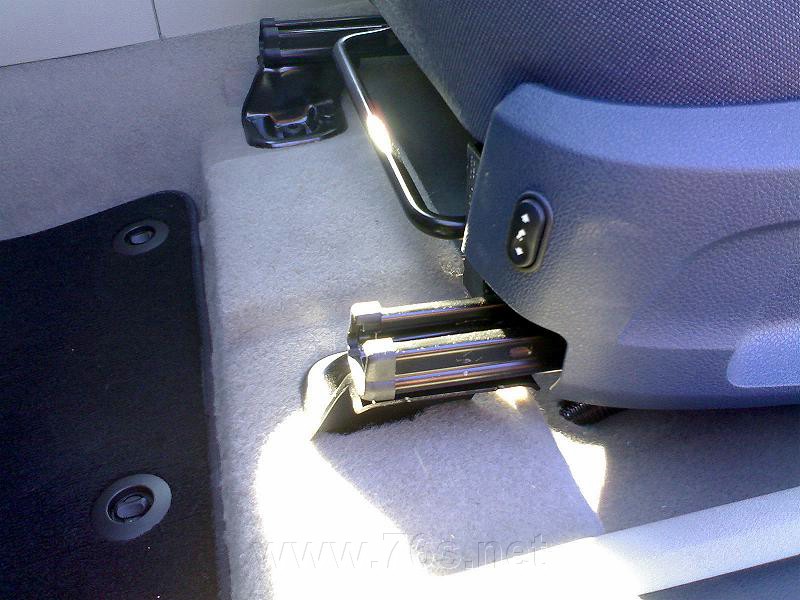 These are really a kind of a shows-topper :-) Omg lol wtf!!11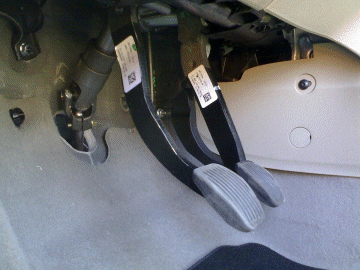 ---
And the some misc inside photos.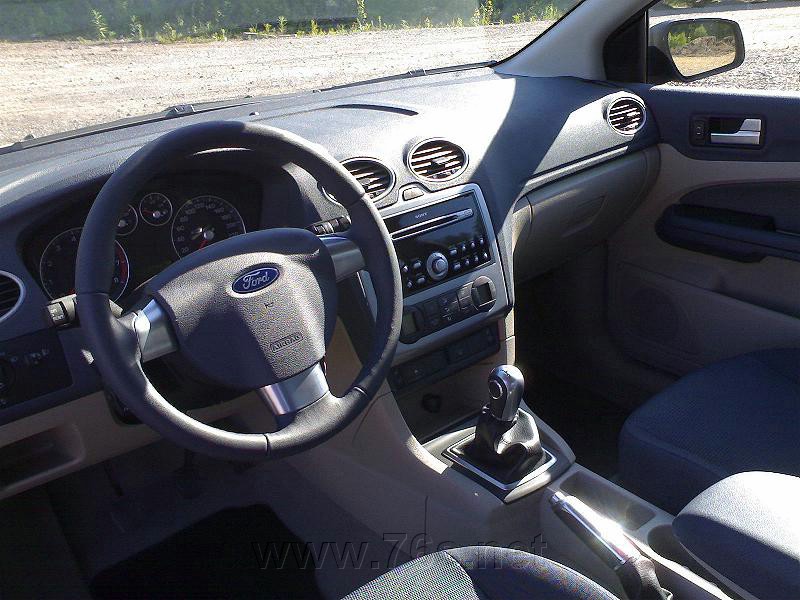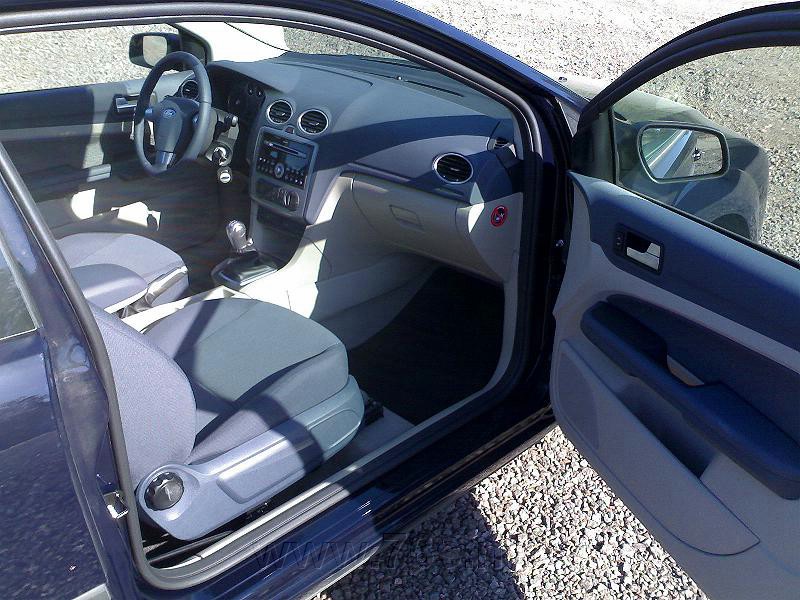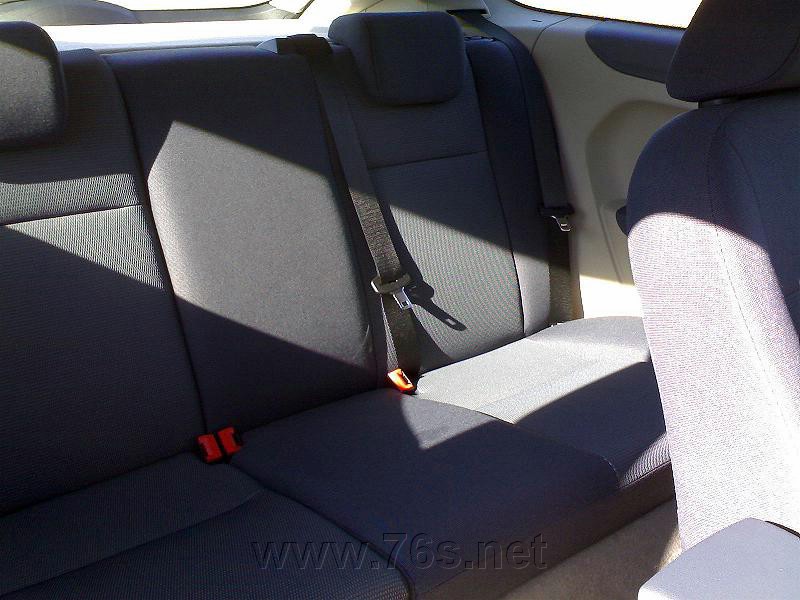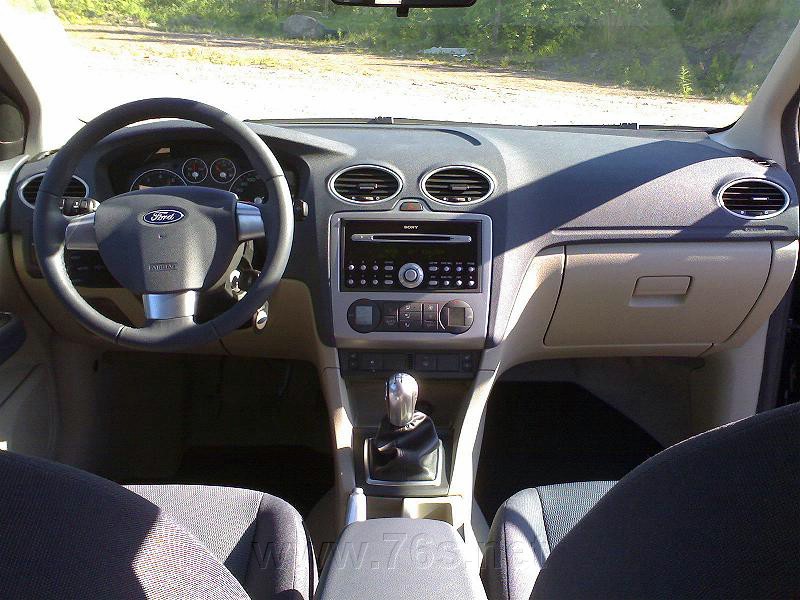 When I first saw the car, I was somewhat wtf omg lol about the interior. I've been browsing the brochure and had my eye many times in the Titanium interior photo and I've liked it. Imo it looks a bit more money than most of the other interiors. I have no idea where it came from, but I somehow assumed that the Sport -interior would be mostly black or some other dark color. When I think back I remember the salesman mentioning something about 'blueish', but I didn't think about that at the time. And wow gasp omg! When I was looking at the car the day before pick up, I had to look around the backyard to be sure this is the car that was coming for me. But it had to be the one, and it had the interior from the Titanium brochure photo!! I think it's just gr8, and it was a very nice surprise to me. When I now, afterwards, look at the brochure, it would've been obvious that this is the 'color scheme' for a Deep navy colored car :-)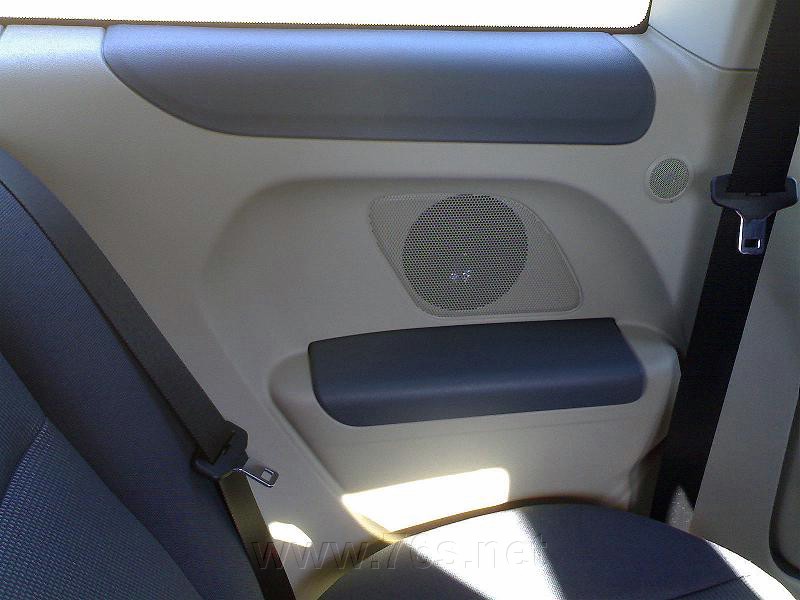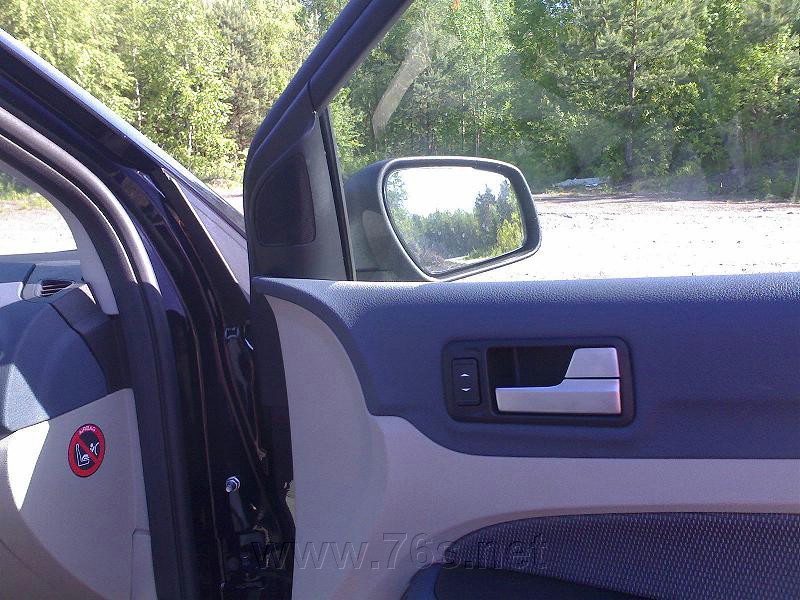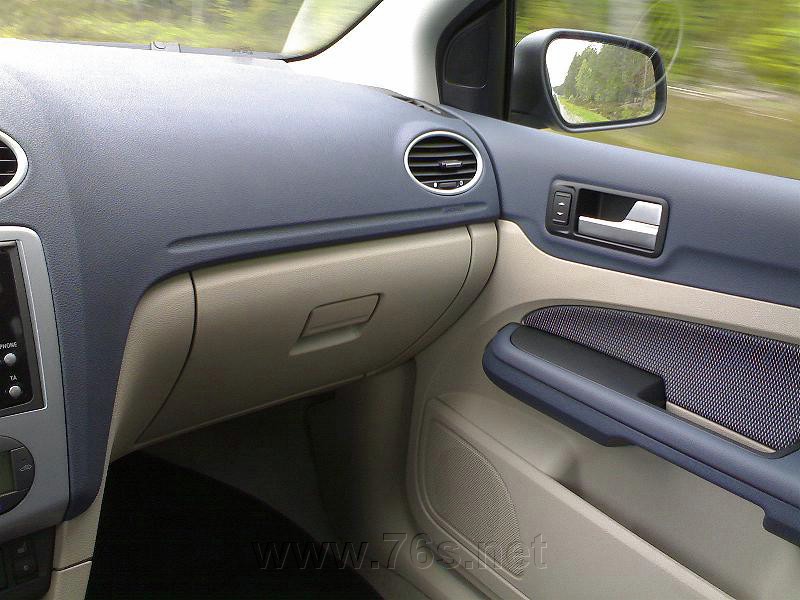 ---
At the moment I have no good photos taken outside the car, but as soon as I get the car washed and waxed I'll take a few of those too. If someone doesn't happen to know what a Foc2 looks like :-)
I'm not going to 'tune' it in any way, just some easy and cheap things are gonna be done. Things like dark side indicators (I think those original clears don't look that good in a dark car...) and some bulbs changing and so on. I'm also thinking about using some black and deep navy spray cans for the fox light frames and so on, but not sure yet.
---
Today I replaced the rear indicator bulbs. Took out the original yellow ones and replaced with Philips SilverVision. It's a bulb that doesn't reflect any yellow when off, but still gives yellow light. Here is the before and after -photo.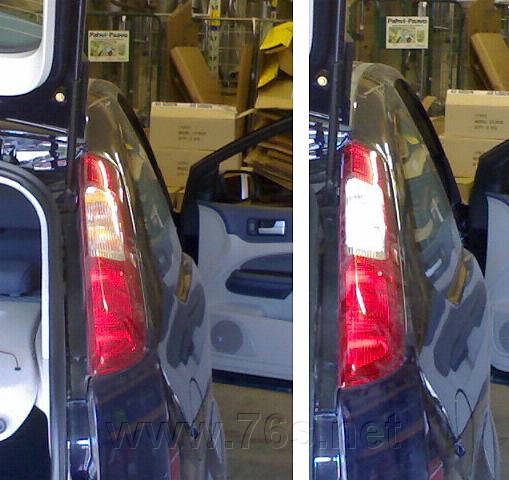 Also started working with the side indicators. As it's the same as used in Fiesta Mk6, there are already some 'tuning' versions available for example from MHW. They (It's almost the only brand _easily_ accessable in here, and Ford's ain't so popular anyway so MHW would've been about the only possibility) didn't have anything I would've liked, so had to think about it. I've noticed a while ago that the lights in VW's seemed to be exactly the same, and as VW's are very popular, there are many more options to choose from. So, I went and ordered a set of 'smoked' side indicators for Passat 6/93- and Polo 10/94- and they fit the Ford hole 100%.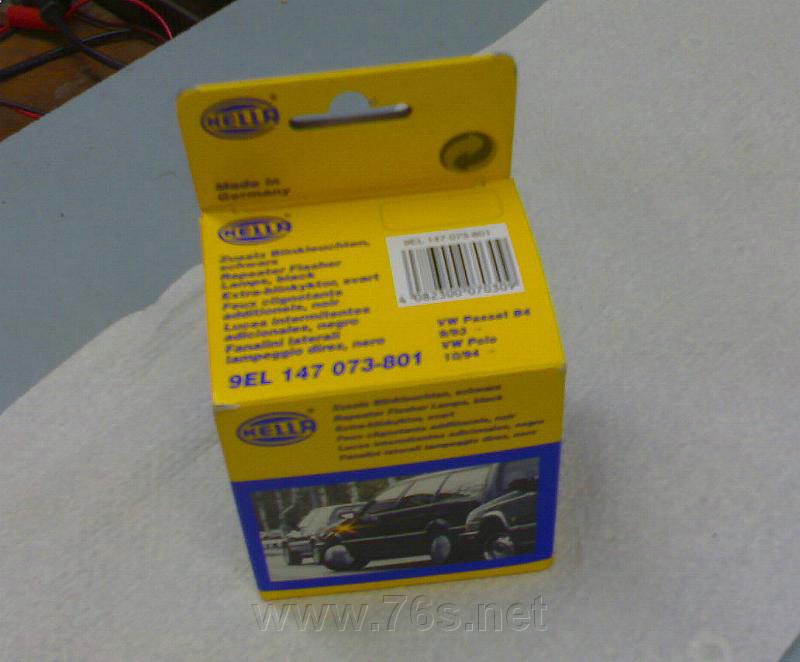 It was no surprise the bulb/bulb holder didn't fit as-is, and needed some modification. In this photo you can se the VW item (black) and Ford item (clear) and the difference.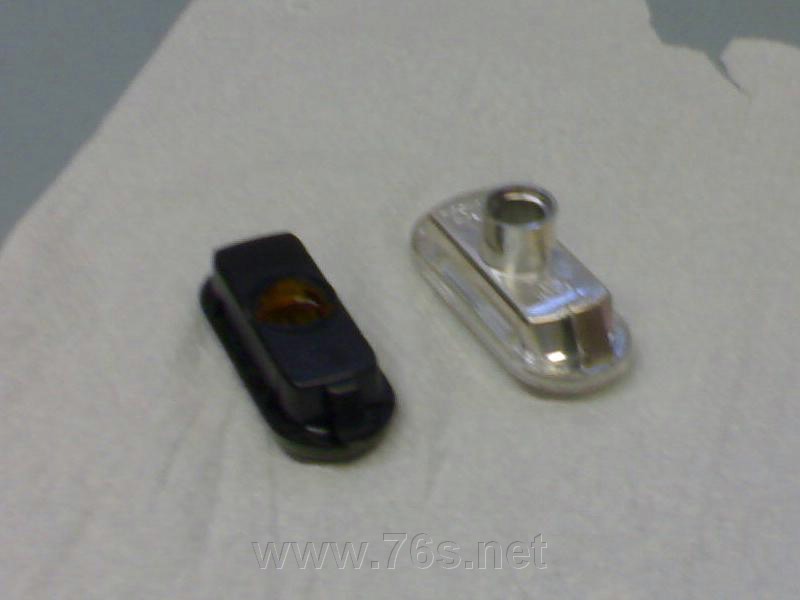 The mod is quite easy, just a few steps.
First you have to cut the needed part from the Ford original.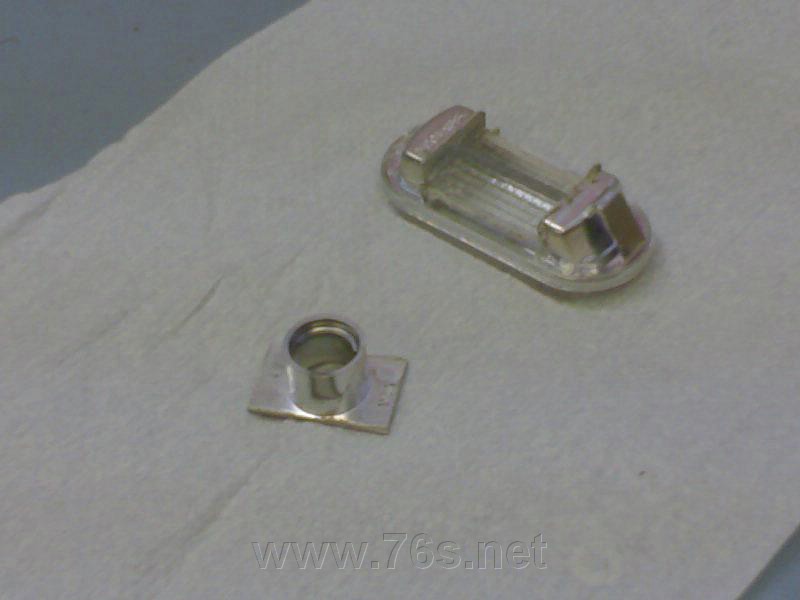 Even the circular shapes fit each other.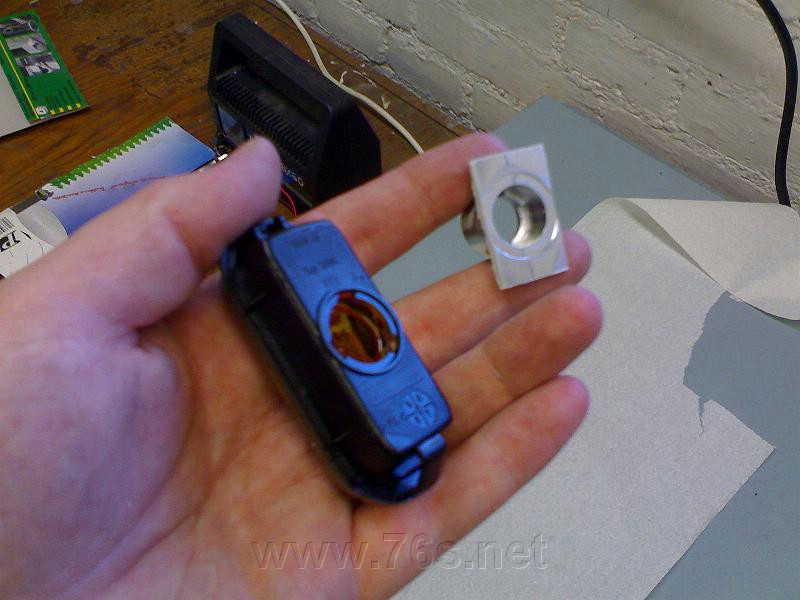 The you just glue it to the VW light and you're done. You should use Super Epoxy or some other thick glue, as the fitment isn't so tight you could use some thin quick-glue.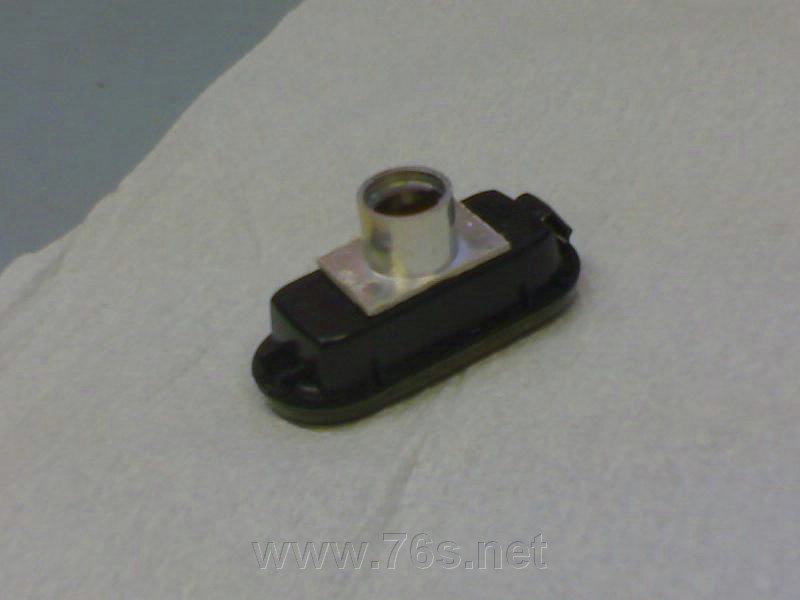 I think the result ain't bad.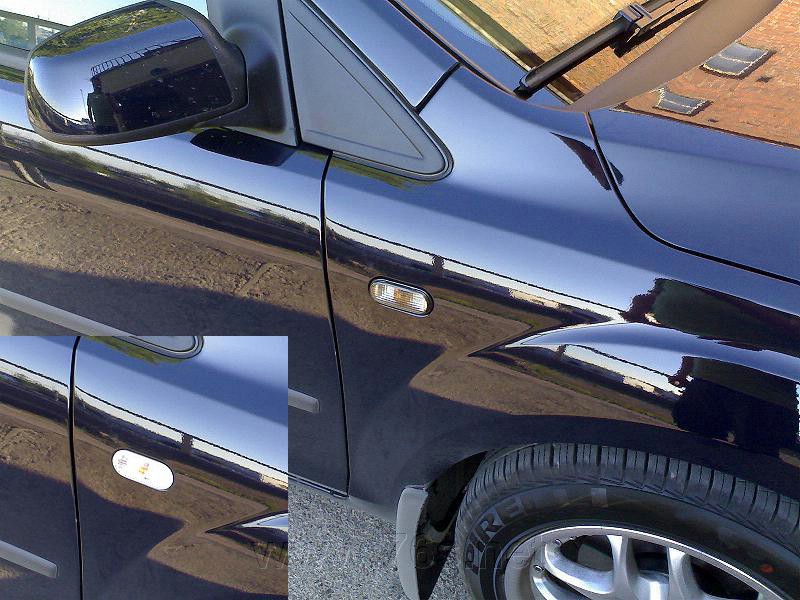 There are at least two kinds of VW side indicators that look the same outside but they aren't quite the same. The other model has the bulb attachment more like the Ford type, but it still doesn't fit and has to be cut out before glueing the Ford fitment. I've done it once with this kind of light but it was also way too tight to fit the Ford hole and needed some extra work to get it fit. I don't _know_ what VW's use this other kind of light, but I think that for example Golf 4 is one of those. The left one on the photo below is the not-preferred VW version, the other one is Ford spec.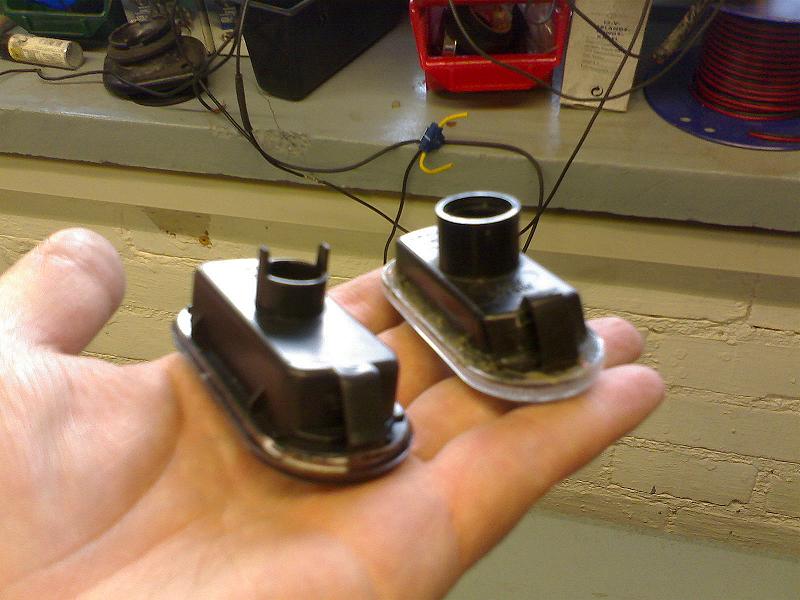 ---
From the FFOC forum I have found that some models have a pair of un-used bulbholders below the dash, and I took a look underneath and found them in mine too.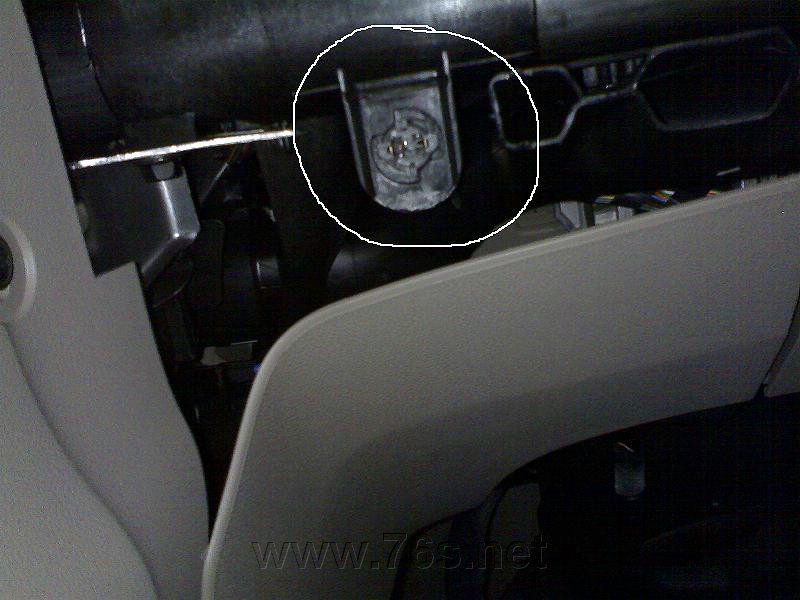 Installed bulbs in these (one on each side) and wow gasp!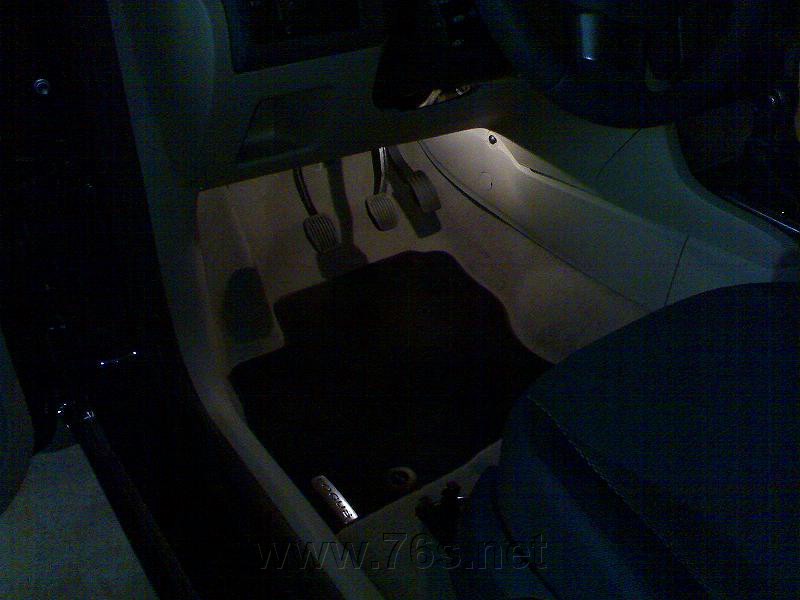 ---
Got some outside photos today. Made some dumb moves with my Nokia (that's what I take these photos with) and lost about half of the photos but as there's nothing special about this car, it's no big loss.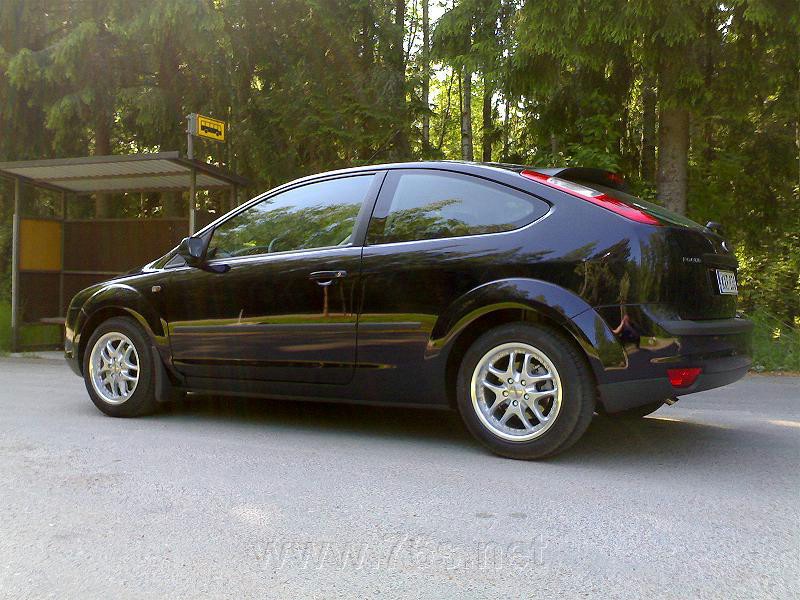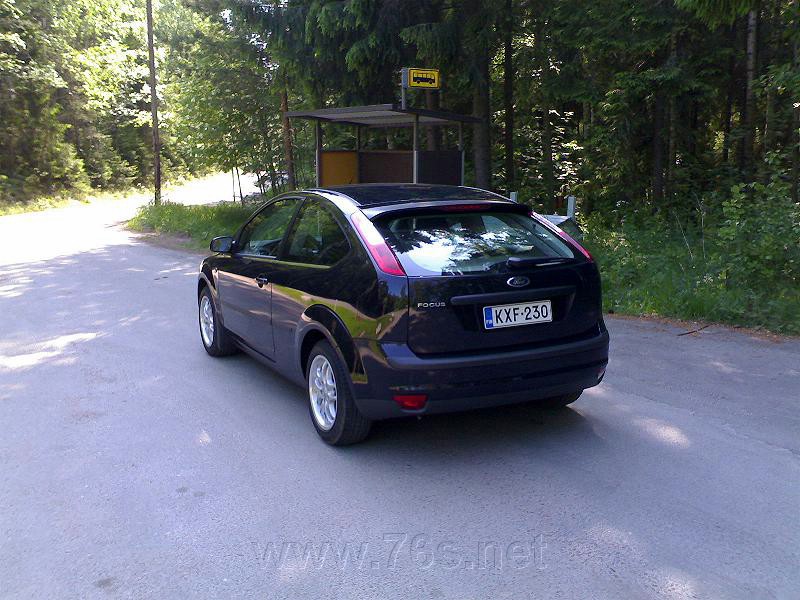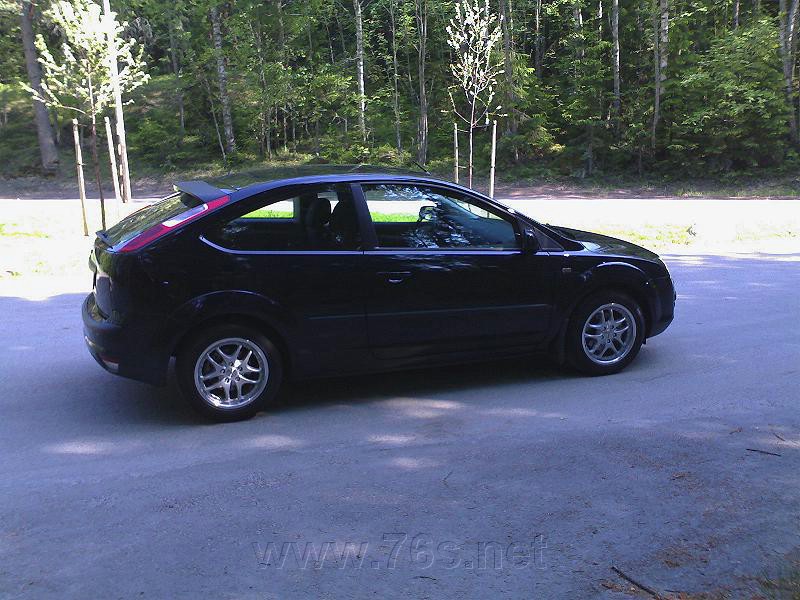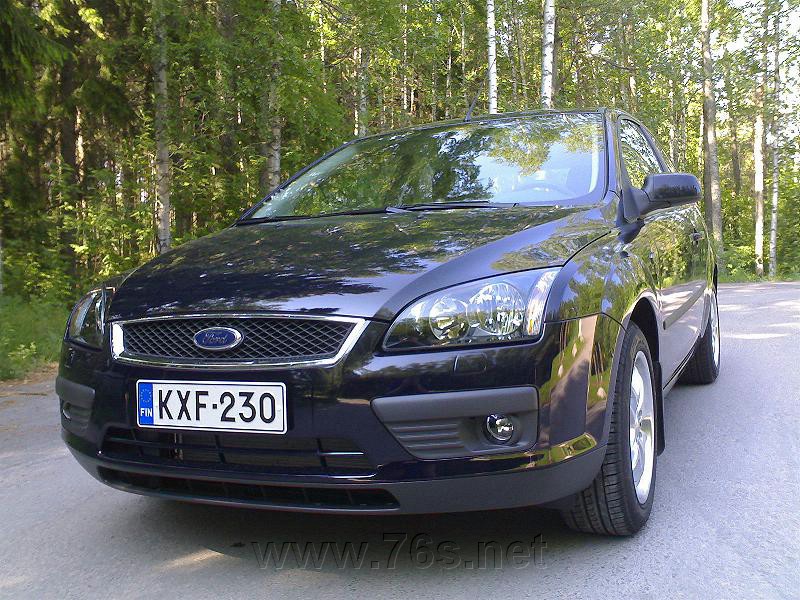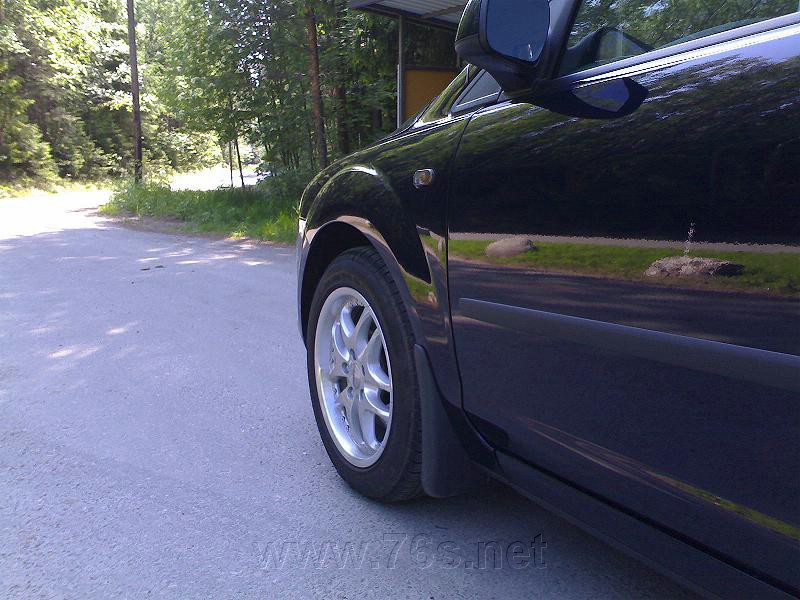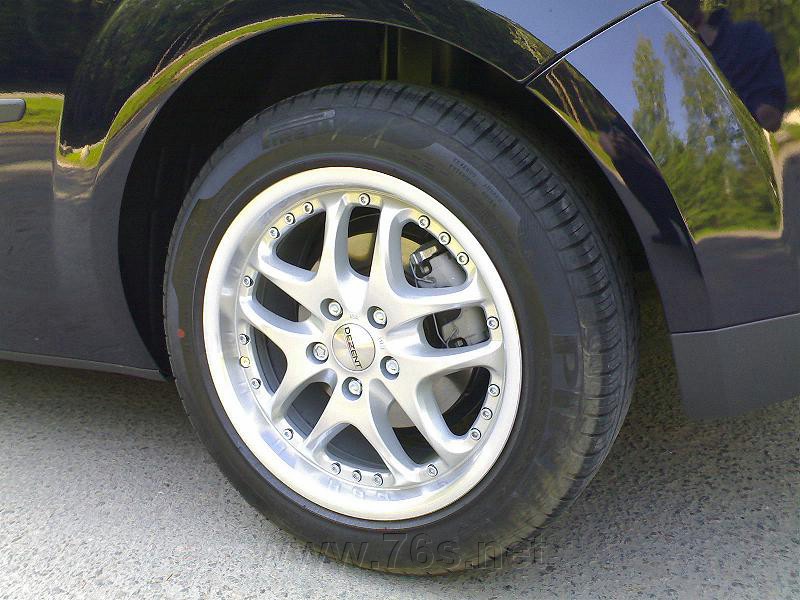 ---
Got some extra parts today (didn't want to mess up with the originals if something went wrong) and gave them some spray can treatment.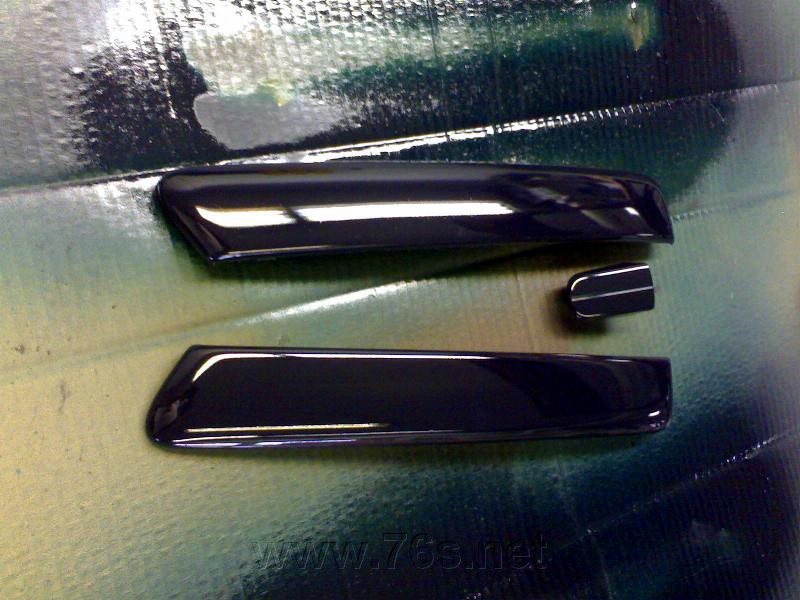 First I sanded them smooth and then I used almost the whole 400ml can of blue and half of the 500ml lacquer :-) As I see it, most of the spray can paintjobs suck big time because of not using enough paint/lacquer and I didn't want it to happen to me. I'm very happy with the result, just hope the colour matches in bright daylight too..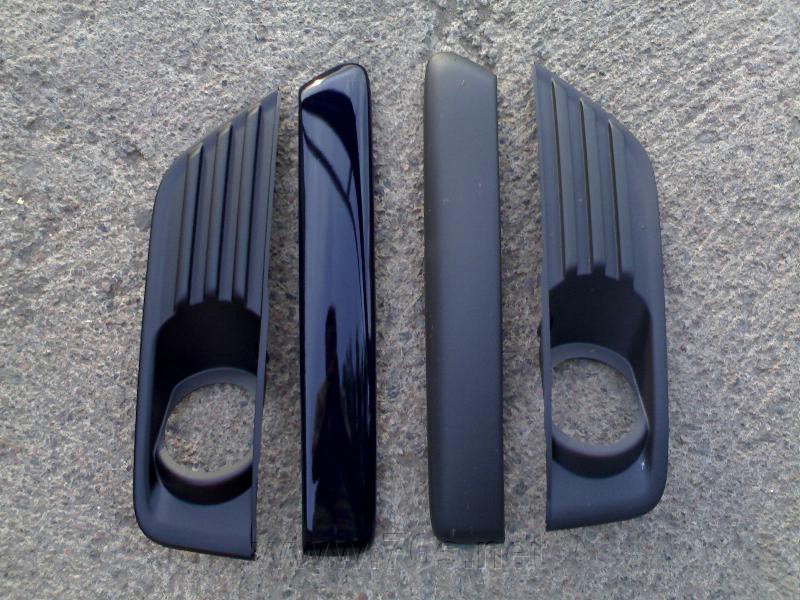 Also the other piece got some black paint. It doesn't seem almost any different than the original, but when you compare them side by side and especially compared to the un-painter lower part of the bumper, you can see some difference. Though that doesn't show so good as in real life.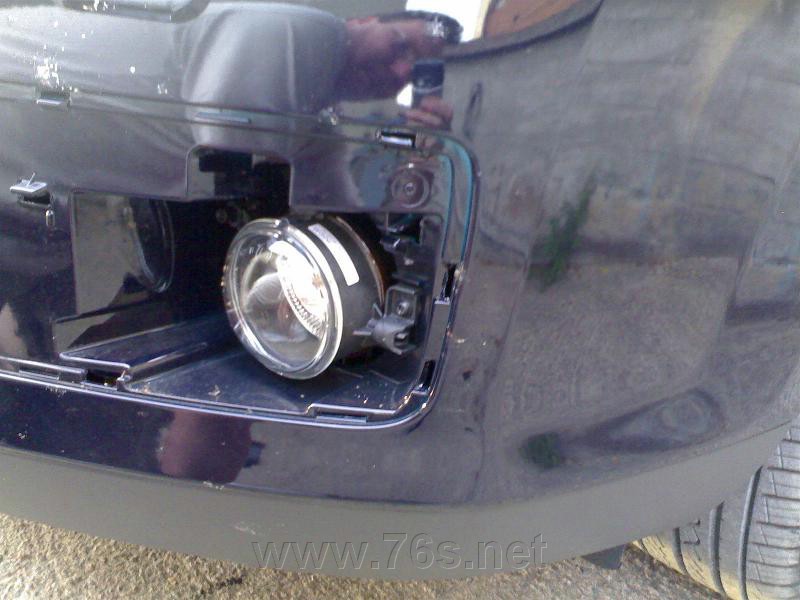 The lower part of the bumper has to be painted also, there's no question about it. At the moment I'm just thinking should I just paint it blue and be happy with it, or should I buy a new one and grind it smooth before painting. I think I'm gonna go for the latter option, just have to find out how much a new one costs. As in the case with the foglight surroundings, I think I'm better off with one to work on and the original still in the car. If there's a problem or I personally fuck it up, then I have a fucked up lower end of the bumber and no motivation to fix it :-)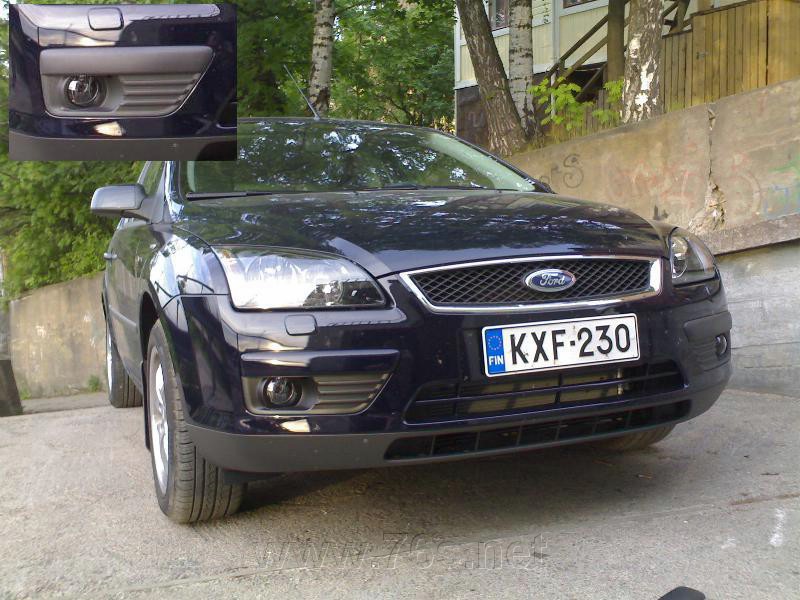 And then there's also this. Though I'm not very sure about this, how do I get inside if the remote and/or central locking fails...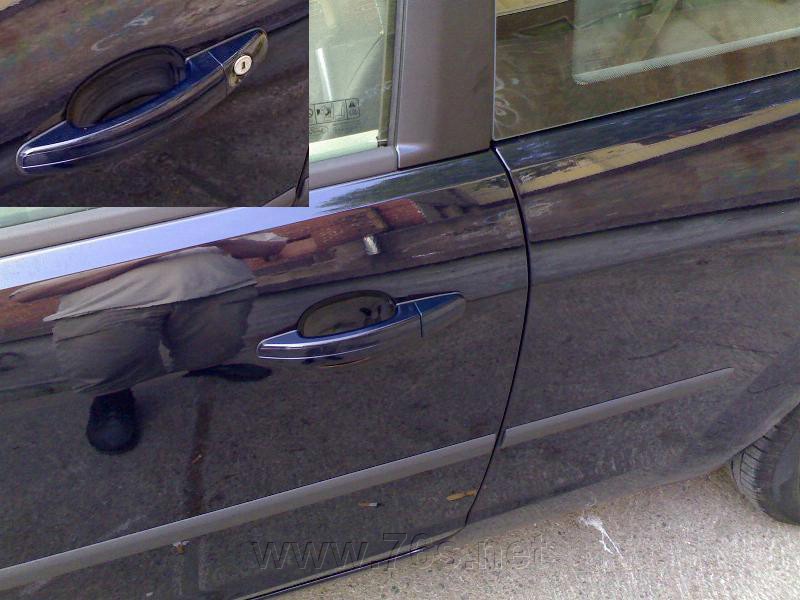 ---
Took the car up today, just to see what's under. Naturally took some photos too.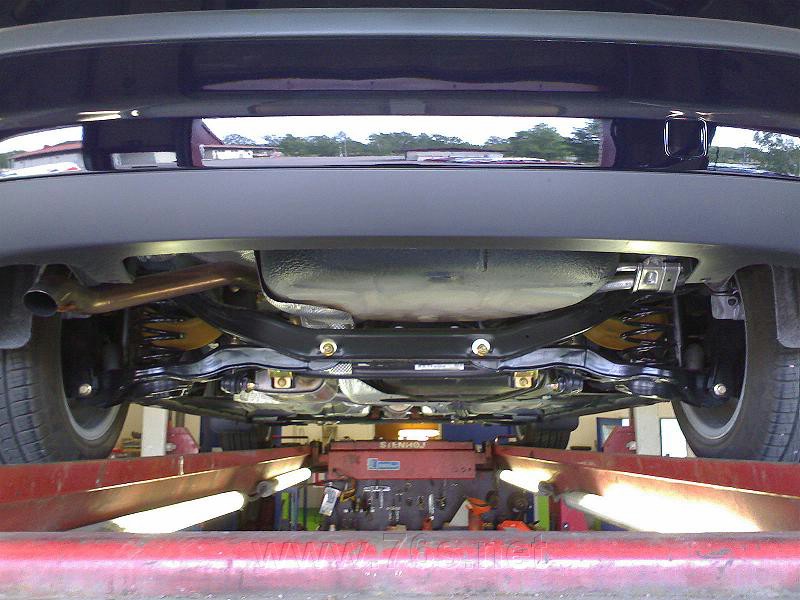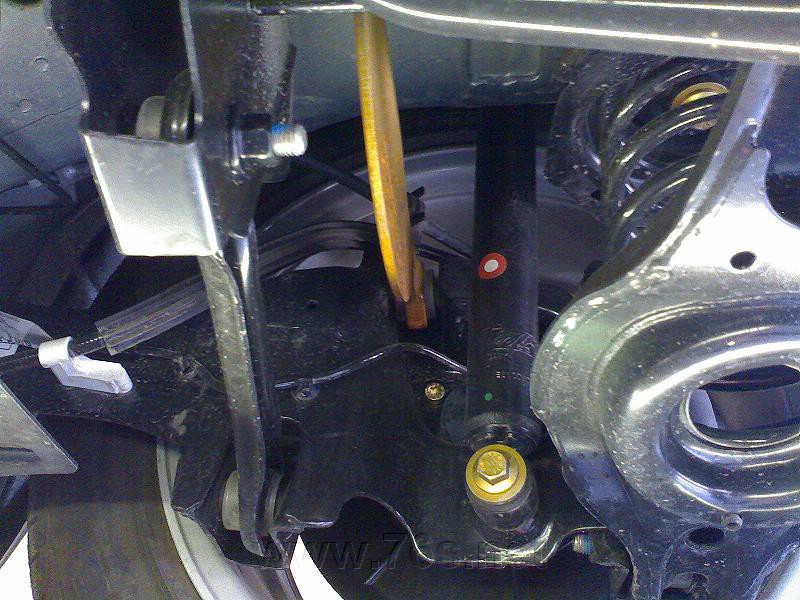 The brown things have to be the control blades :-) (In case you didn't know, Ford say that the Focus has some control blade axle/suspension in the back :-))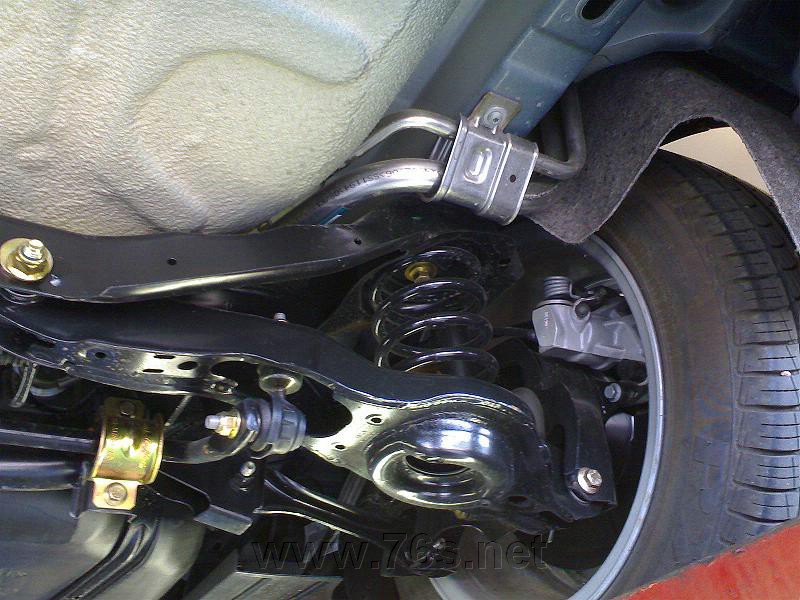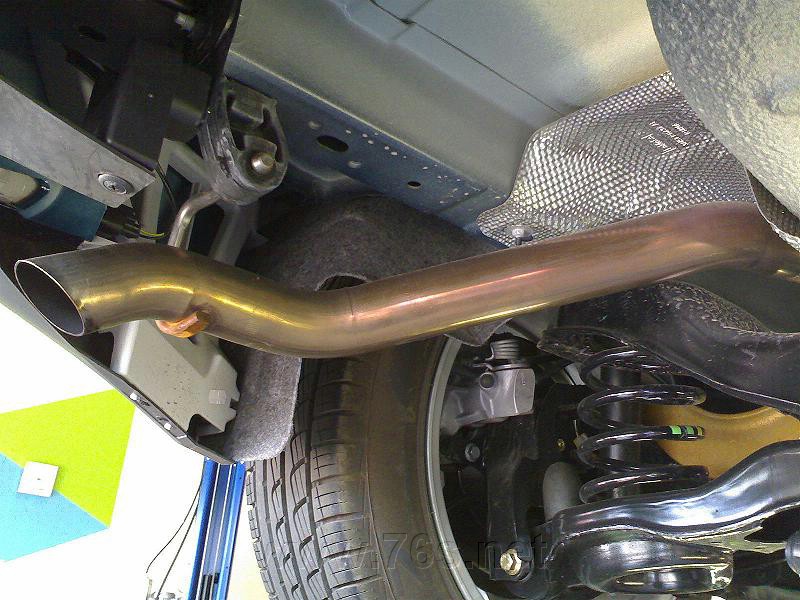 Never seen an exhaust in that colour.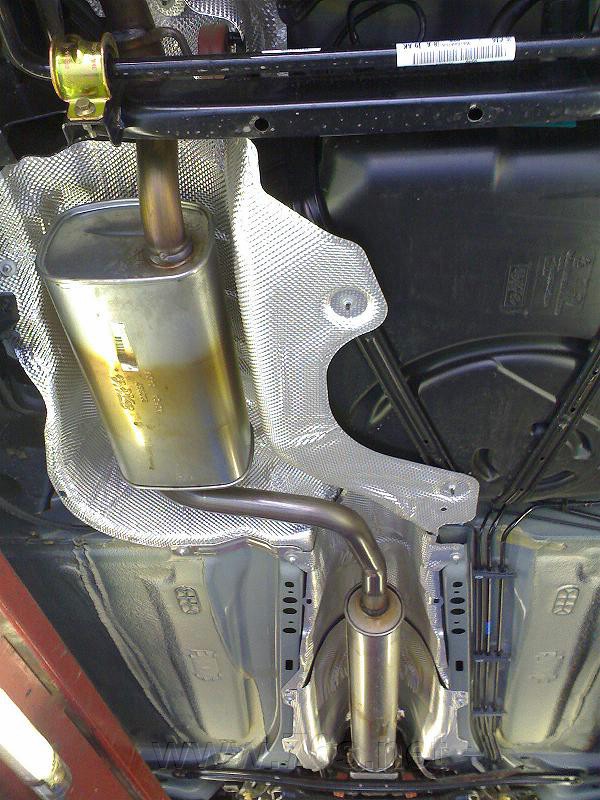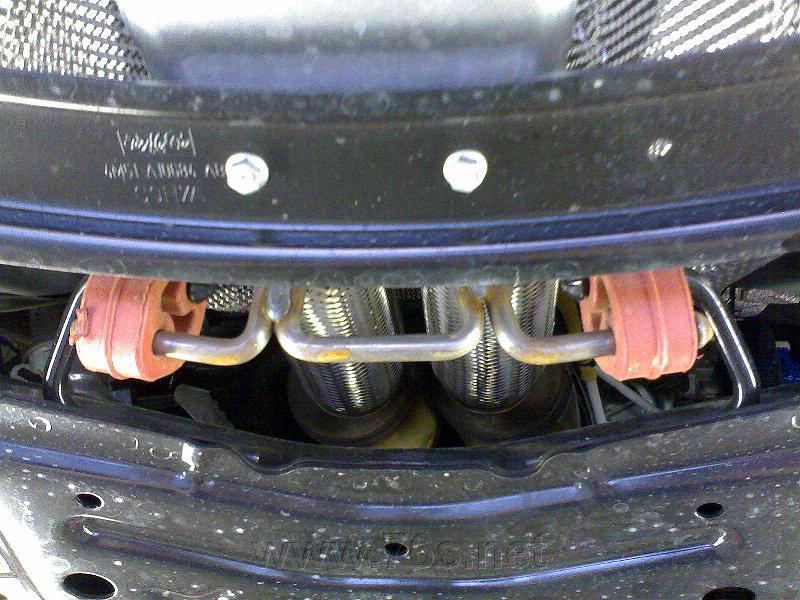 Hope I don't have the car anymore when the exhaust starts to rot... Looks 'a bit' expensive.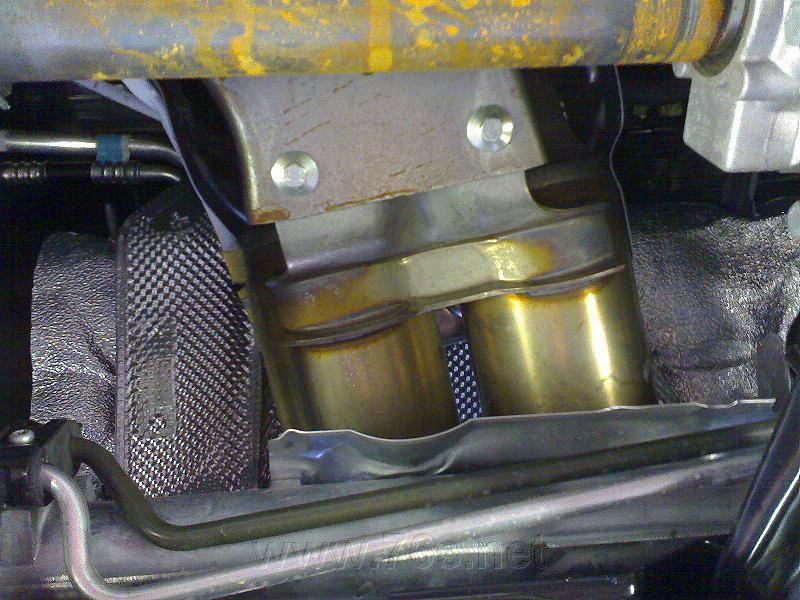 Two catalysators.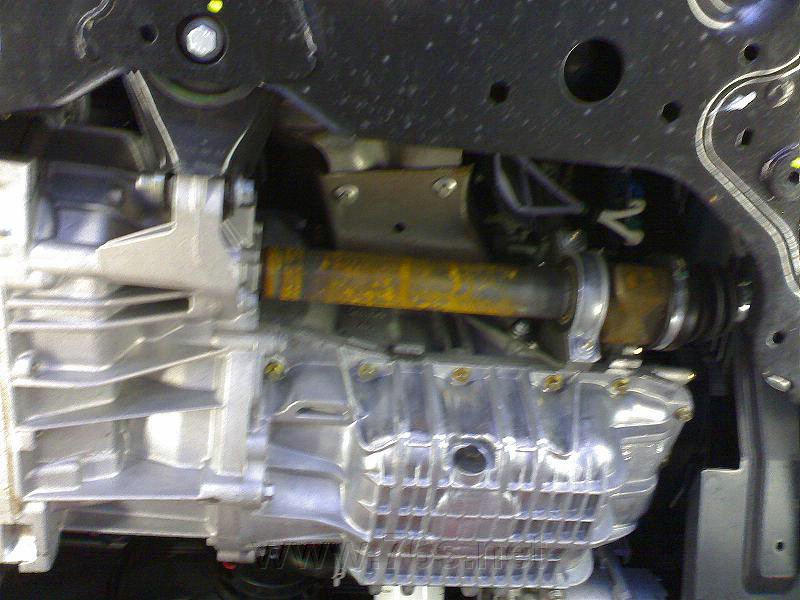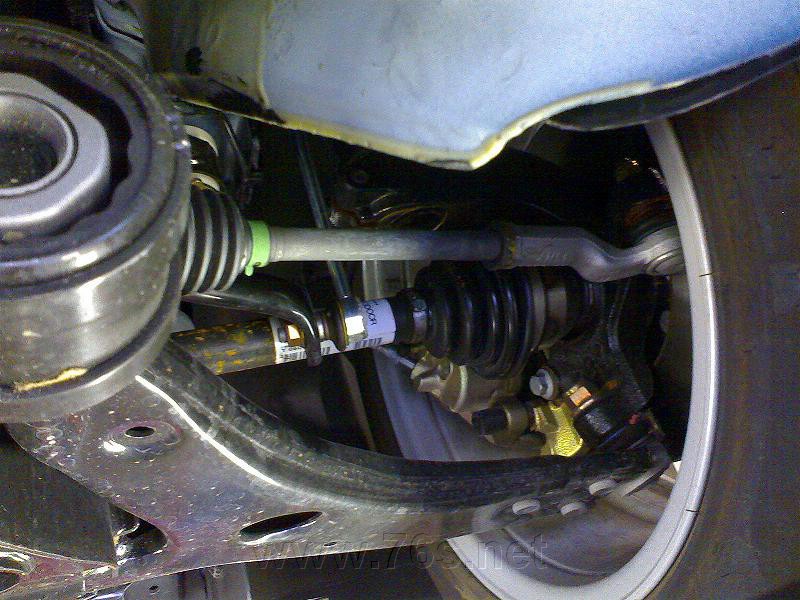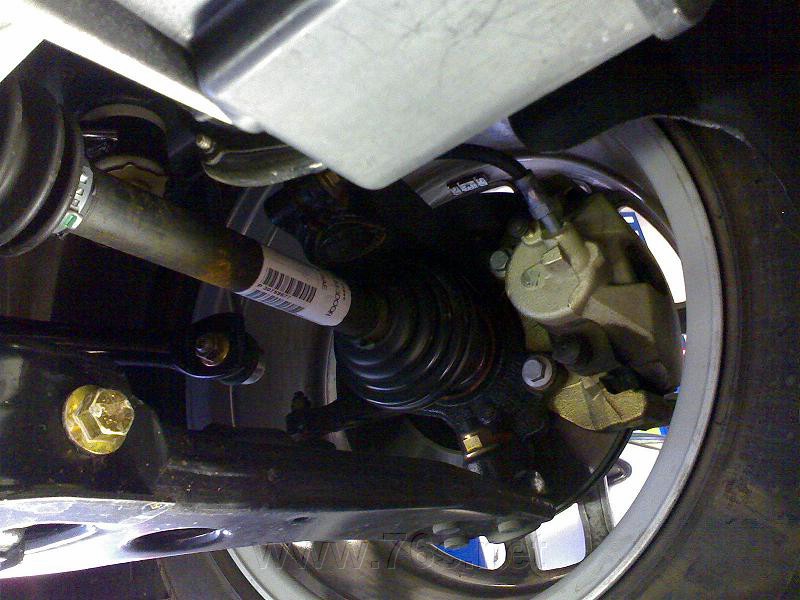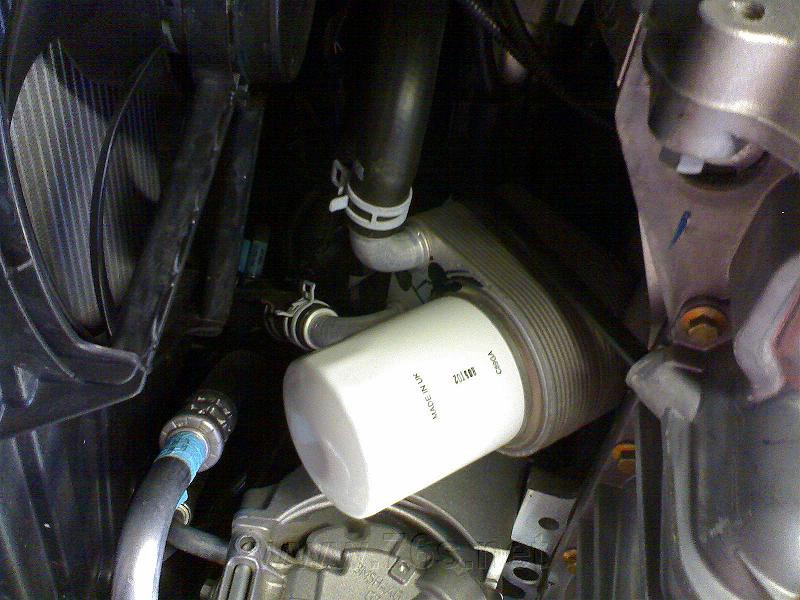 Is there an oil cooler somewhere or is there some water circulation?
And that's about that from down under. Nothing special, just new and clean parts :-)
The car has now been here for two weeks+ (~2800km), and I'm still very happy with it. But I've noticed the paint job ain't quite as good as I would've expected. It sure is shiny and so on, but like most cars today, the paint it self looks like we here say 'orange skin'. And when a friend of mine waxed it the other day, we found many places - for example the whole hood - were the paint doesn't feel smooth when you feel it. My English ain't again good enough to describe this, but guess you understand. If looks fine but feels not so fine everywhere :-)
But when we took it up for the previous photos and so on, I found a bit more extreme fault in the paint job.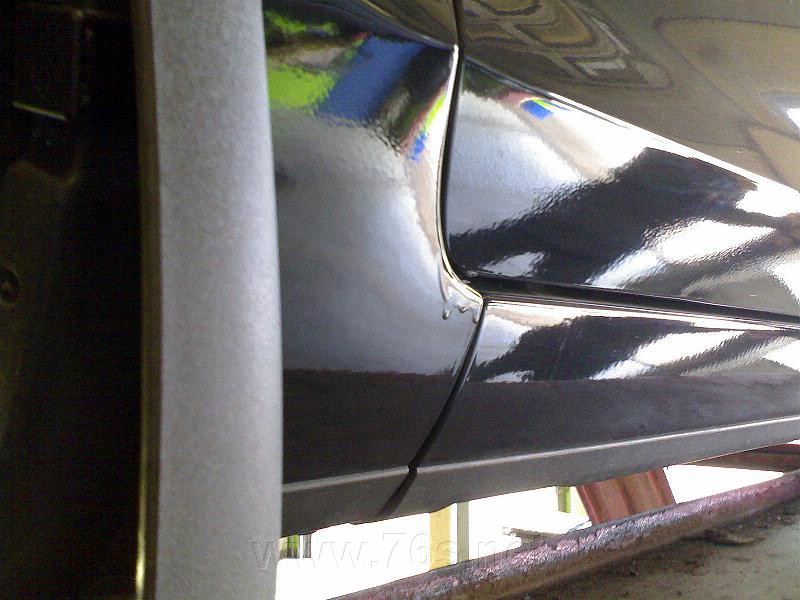 Oops.. That really doesn't bother me at all but I'm still going to mention that at the dealer when I go visit them next time. As I see it, if that was to be fixed there's propably no ther option than paint that corner all over again, but I'd be more pissed with different kind of paint than with the way it now is :-) I think I'm gonna try to get the first service for free for that :-)
Also the windscreen is a bit strange. When you feel it, it feels kind of blatant/boorish/broad (dictionary words) and when you use the wipers they make a noice that sounds like if feels.
Uh .. All that must be my worst English for a long time :-)